I was enjoying Jean Metzer's The Matzah Ball, a really fun #Hanukkah romance in the classic Romance-novels style (meet-cute, boy and girl hate each other as sparks fly, the last straw, reconciliation, HEA) with the twist that it's about fun-loving, quirky, observant #Jewish people!
Real life Jews having fun! Added bonus: chronic disease. And I say that without an ounce of snark: real life person with chronic disease suffering, having fun, not having a miracle cure if she'd only believe, just…being.
So the book is ground-breaking, while being, really truly, a romance novel. And it's loaded with delicious Hanukkah food! I was ravenous just reading it.
The author, Jean Metzer, made an appearance on the Facebook group A Novel Bee, and talked about one of the very-present pastries mentioned in the book: Rugelach. To the uninitiated, rugelach are the little rolled up yeast-dough cookies filled with…chocolate, apricot jam, what have you. Soooooo good.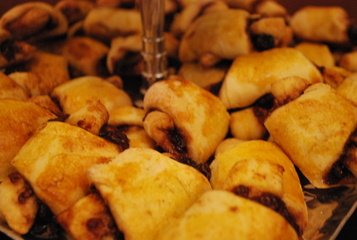 While she was telling us about her recipe, she divulged a shortcut she likes: using puff-pastry for the dough. So, I told her about my shortcut: cream-cheese dough. Rich, melty, delicious, everything you want in a dough. We call them kiffles. I don't know why.
So this Hanukkah, I hunted down my recipe. I have a magical recipe box, given to me by my mother-in-law of blessed memory, and here's the picture:
It's magical, because I always find exactly what I'm looking for right away! Here's the kiffles recipe. Make some, eat some, and Happy Hanukkah!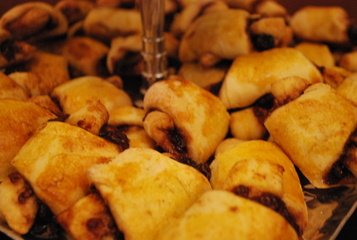 Claudia's Kiffles
Ingredients
6

oz

low-fat cream cheese (or regular, it's the holidays!)

room temperature

6

oz

softened, unsalted butter

(like I said, holidays!)

1 3/4

cups

flour

1

pinch

salt

3

egg whites

6

tbsp

sugar

1/3

cup

chopped walnuts

1/3

cup

mini chocolate chips, in a bowl.
Instructions
Mix dough in mixer until smooth. Divide into 4 balls, and refrigerate while you blend.

Pre-heat oven to 350, line a sheet pan with parchment, silpat, or very very lightly greased foil.

Roll out one ball at a time. Cut into pie-wedges, about 6 (maybe 8) wedges. Put some filling on the wide end, roll up like a crescent, use some of the liquid in the bowl to moisten your fingertips and seal the roll.

Repeat with all the dough.

Put on sheet pan, bake for 10 minutes until golden. Take out right away, put on a rack, and if you want to gild the lilly so to speak, dust with confectioners sugar.
Happy happy Hanukkah!