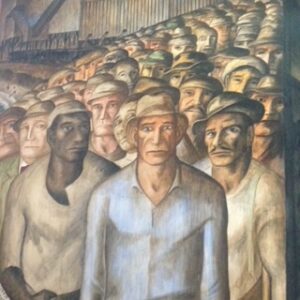 [Madam Mariana has received a shocking missive from 1933, and her cloche hat definitely slipped when she read this letter from Lucy!]
Dear Madam Mariana: Now it's really too late. Mr. Arnautoff is a charming man, and I have fallen, hard, for him. His wife is estranged, and he is all alone. His brilliance is beyond anything I have ever experienced. 
Mr. Older, the publisher of the San Francisco Examiner, has been accepting my articles on the artists, and paying quite well, so in that sense you were indeed right. I have interviewed many of them, and there are a few women, Mrs. Arbro, Mrs. Berlardina, and I have profiled them as well. I was able to buy a fabulous outfit: a three piece boucle knit suit in sage-green, with a burnt-orange top, which, topped with my fur from Philadelphia, lets me look as respectable as any woman. 
And if the United States Government wants information, they are going to have to pay for it like anyone else. My fees are not terribly high. And my good name is not for sale, either. I have moved in with my darling Victor, and we are ecstatically happy together. So I thank you for your advice, which I did not take, and will trouble you no more. Lucy
And that should be that, right? But not a month later…
Madam Mariana, I must trouble you once again. Disaster, in the form of my past, has struck. MY HUSBAND [Wait! Wasn't she a widow?]  has found me!! 
I am trusting, deeply, in your confidentiality. You mustn't tell a soul. I cannot even tell Victor, for the moment I do he will throw me out, and my troubles will never end. But he will find out soon enough… I am raving. I know that. But I must give you some background. It's a long and sordid story.
I must send you my diary from three years ago, so you can see what happened. Please find enclosed. You are SWORN to secrecy! Tell me you'll tell NOT A SOUL! Distraught, Lucy
Dear Lucy: My word is my bond. Madam Mariana
[And we all know that there's nothing more fun than reading someone else's diary. Not. But Madam Mariana will stop at nothing to provide the best possible advice from the portals of the past…stay tuned!]