In which Madam Mariana fields a question from…a dog! Yes, even dogs have questions about love, about life…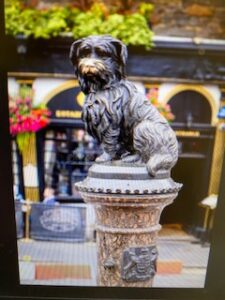 Dear Madam Mariana,
I am a Scottish Terrier named Bilbo, and I have been grappling with a terrible secret I can no longer keep to myself: I am mis-statured, and have been living a lie.  Everyone sees me as the short, stocky terrier I appear to be, but trapped inside me is a BIG dog yearning to break out. On top of this, I am an actor, and the limitations of type-casting only exacerbate my stature-challenged dilemma. Just last week my agent submitted me out for the lead in a remake of Greyfriars Bobby, when I know I'd be unforgettable as the title character in Big Red. I guess my question is: "Do you have any advice for me?"
With bark and bite,
Bilbo
My sweet, cuddly, cutie-pie, Bilbo…
Oh, sorry. Let's try this again.
My big, masterful and super-sized Bilbo,
This is truly a timely question. We are, as human-race members, struggling with exactly what you describe in your doggie world. We are terribly quick to judge on appearances, and to disregard the strengths and beauties that lie within. Right now we are making great strides in acknowledging that we often hold within ourselves a person, a characteristic, a true nature that does not appear on the outside. But the conversation is freighted, my dear pooch and we must approach it with both caution and sensitivity.
In the dog world, the ability to mark the hydrant higher than the other dog can is cause for bragging rights. Humans are not all that different, though we do tend to be a bit more discreet. But haven't we all seen a #terrier or a #chihuahua bark the bells off a #spaniel or a #retriever? Size may matter in the canine universe, but it isn't the only thing that counts.
Humans are very similar. The color and texture of our fur, the shape of our skins, our eyes, are society's markers for all kinds of judgments. Right now, we're in the thick of an upheaval that includes the right to live, long and peacefully, and not have that right depend on our external appearance.
We're also working very hard not to have those markers–along with a few others, like our gender, what sex we like, who we like it with, whether we believe in a supernatural being that holds the other end of the leash or not, and if so, what we call that being–decide what roles we get to play in life, how our life gets to be lived, and what our future gets to be.
We're not there yet, puppy of mine, but we're trying.
So, to your question. You're a big dog, trapped in the confines of a Terrier body. You're not living a lie, dear pup. You're living a complex identity, where you cannot change your outward manifestation to match your inner vision. My answer: live your vision to the fullest.
Think about it: if your agent were to submit that Mastiff, Baskerville, for the Greyfriars Bobby part, other Scottish Terriers would be outraged. After all, how many roles are there for Scotties, right? And parts for Mastiffs abound. But if your agent submitted you for Big Red, might Baskerville have the same beef?
Or are we all dogs under the fur, and we should cast the best dog for the part?
As we worry that bone, I can only advise you: seek out a new agent, or talk them into submitting you for more blind-casting, alternative, indie shows where the role is given to the hound who most deserves it, regardless of preconceived notions or traditional roles. If you want to make money as a dog-actor, the only avenue is type-cast musicals. If you want to make art, go indie.
You beef-bone dog, you!
Madam Mariana
Peter Bogyo, an acclaimed Broadway producer, knows all about dogs! His Scottish Terrier, Bilbo, starred in quite a few films and an occasional live performance. Upon his passing over the rainbow bridge, Peter collected stories and photos, and wrote an entire book devoted to Dog Obituaries. A touching, moving, and humorous tribute to our beloved canine friends!